The 5W40 engine oils from ADDINOL are high-quality multigrade oils that meet the highest demands. The optimal combination of base oils of the latest synthesis technology and innovative additives guarantees outstanding performance and solves the complex and high lubrication requirements for passenger cars, motorcycles and commercial vehicles. The oils have excellent starting and warm-up properties. Simply try out our 5W40 oils and see for yourself. With our Oilfinder you can check which oil is suitable for your vehicle.
Specifications / Approvals for cars:
ACEA C3
API CF, API SN
meets the requirements:
BMW Longlife-04, Ford WSS-M2C917-A, MB 229.31, MB 229.51, VW 505 00, VW 505 01, GM Dexos 2, Fiat 9.55535-S2, Porsche A40, Fiat 9.55535-D3
Specifications / Approvals for cars:
ACEA A3/B4
API CF, API SN
MB 229.5, VW 502 00, VW 505 00, Renault RN0710, Renault RN0700, MB 229.3, MB 226.5
meets the requirements:
GM LL-A-025, GM LL-B-025, PSA B71 2296
Specifications / Approvals for commercial vehicles:
ACEA E3, ACEA E5, ACEA E7
API CF-4, API CG-4, API CH-4, API CI-4, API CI-4 Plus, API SJ, API SL
meets the requirements:
MB 228.3, Volvo VDS-3, Renault RLD-2, Mack EO-M Plus, Caterpillar ECF-2, Cummins CES 20077, Cummins CES 20076, Renault RLD, MAN M 3275-1, Caterpillar ECF-1-a, Mack EO-N, MTU Oil category 2
The designation 5W40 stands for the SAE class according to which the engine oil was classified. The SAE class describes the viscosity of an oil, i.e. its flow properties as a function of various operating temperatures. Engine oil with class 5W40 is a multigrade oil, i.e. it has good flow properties at cold and warm temperatures. This property is necessary in order to supply the engine with optimum lubricant at all necessary points throughout the year. "5W" stands for flowability at cold temperatures (W=winter). It is still pumpable down to -35 °C, i.e. liquid enough to reach all lubrication points in the engine at low temperatures. The second part, "40", describes the flowability of the engine oil at an operating temperature of 100 °C. The kinematic viscosity of a 5W40 oil at 100 °C is 12.5 - 16.3 mm²/s.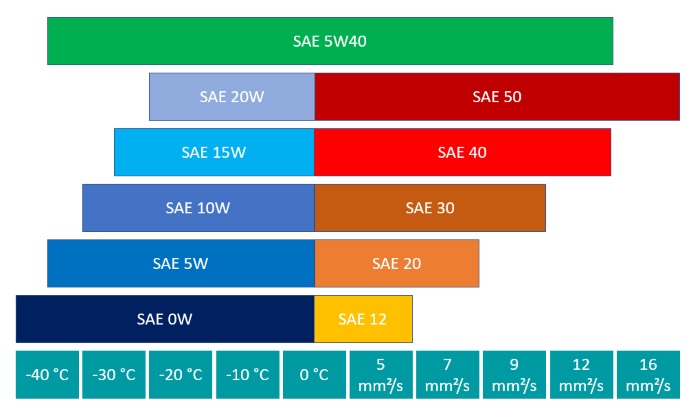 In general, 5W40 oils work best in the temperature range from -35 °C to +40 °C. In Central Europe your engine is well protected all year round. The suitability of 5W40 engine oil for your vehicle can be found in the manufacturer's specifications. Only fill your engine with oil that has been approved by the manufacturer to prevent engine damage.
Since 5W40 engine oils have to function in a wide temperature range, fully synthetic or semi-synthetic base oils are recommended for the production as they have a better temperature resistance than mineral oils. Fully synthetic 5W40 oils are based only on artificially produced synthetic oils. For semi-synthetic 5W40 oils, mineral oils are mixed with synthetic oils. The advantage of fully synthetic oils is their higher load-bearing capacity and better ageing resistance. However, fully synthetic oils are more expensive due to the more complex production steps. In most cases, the semi-synthetic base oils already meet the requirements of the manufacturers and can be recommended without any doubt.
With the PREMIUM 0540 C3 ADDINOL offers a high-performance engine oil with longlife character in the SAE class 5W-40. High-quality synthetic base oils mix with high-performance additives. This ensures that the engines are optimally protected against corrosion, wear and deposits even during longer oil change intervals.
Longlife oils are specially designed for engines that are designed for extended oil change intervals. They are very resistant to ageing and lubricate the engine over a long period of time. Normal oil change intervals of 15,000 to 20,000 kilometres can thus be extended to 30,000 to 40,000 kilometres. The replacement intervals are calculated by a board computer. This is programmed to the oil properties of the Longlife oil. Therefore, the Longlife oil 5W40 must never be mixed with a conventional 5W40 oil. Due to their high quality, Longlife oils are considerably more expensive than conventional engine oils. They are particularly worthwhile for frequent drivers who drive more than 30,000 kilometres a year and therefore do not have to change the oil several times a year.
Again and again the question arises whether 5W40 oil can be mixed with 5W30 oil or with 10W40 oil. In principle, this is possible if your car can tolerate several SAE classes according to the manufacturer's specifications. However, the mixture then only has the properties of the inferior oil. If your car is only approved for 5W40 engine oil, please do not mix it with other viscosity classes. Engine damages can occur.
The engine oils of the SAE classes 5W40, 5W30 and 10W40 are relatively similar. They differ only in their temperature behaviour at low temperatures and their flowability at 100 °C. The following table briefly outlines the differences.
| | | | |
| --- | --- | --- | --- |
| SAE class | Pumpable till | Kinematic viscosity at 100 °C | Properties |
| 5W40 | -35 °C | 12,5 – 16,2 mm²/s | High cold tolerance, high load capacity |
| 10W40 | -30 °C | 12,5 – 16,2 mm²/s | Good cold tolerance, high load capacity |
| 5W30 | -35 °C | 9,3 – 12,4 mm²/s | High cold tolerance, good load capacity |
5W40 and 5W30 have the better cold start behaviour compared to 10W40. This guarantees better fuel economy and engine protection even in winter time. 5W40 and 10W40 have better viscosity at higher operating temperatures and loads than 5W30. The advantages are particularly noticeable when the car is used for long distances, in mountains or in hot regions. Then 5W40 and 10W40 offer better wear protection and fuel savings compared to 5W30 at higher temperatures.