ADDINOL gas engine oils –
for maximum efficiency
ADDINOL gas engine oils were developed, in order to guarantee maximum efficiency and safe operation for communal heating / power stations. They are based on high-quality mineral oil raffinates, in combination with new additive technology and are specially tailored to the complex requirements of modern gas engines. ADDINOL can offer the right product for every gas type and all operating conditions. ADDINOL gas engine oils are used in biogas plants and in connection with landfill, sewage and colliery gases as well as natural gas. Whether at increased operating temperatures or when subject to impurities - they are specially designed for extreme requirements in gas engines:
Use ADDINOL gas engine oils, such as ADDINOL MG 40-Extra Plus for biogas plants or ADDINOL Eco Gas 4000 XD for operation with natural gas.
Your benefits at a glance:
Lower maintenance costs through longer oil lifetimes
Reliable wear protection
Protection against soiling and corrosion
Excellent efficiency through optimum engine cleanliness
Safe operation and long engine lifetime
Used by leading machine manufacturers
Excellent, personal service thanks to our Application Technology
Authorizations for gas engine oils
The excellent performance of ADDINOL gas engine oils is proven in countless renowned applications by leading gas engine manufacturers:
GE Jenbacher
MWM
Caterpillar
MAN
MTU Onsite Energy
Tedom
Perkins
Fields of application of gas engine oils
The gas engine oils from ADDINOL can be used in many ways, both in industrial plants and in communal heating / power stations.
Biogas engines with strong acidification
The operation of gas engines with landfill gas high in hydrogen sulphide does mean enormous loads both for engine and engine oil. This was a perfect challenge for ADDINOL Gas engine oil MG 40-Extra Plus. Acid components, which arise during combustion, can be neutralised reliably thanks to the engine oil's powerful alkaline reserve. Another lubricant for operations with loaded landfill gas as well as biogas is ADDINOL Gas Engine Oil LG 40. It has been developed specifically for GE Jenbacher engines series 4 and 6 and possesses highest oxidation stability.
The combustion process of natural gas and cleaned special gases is cleaner than the combustion of usual special gases – therefore a lower alkaline reserve is required of the engine oil. However, the combustion of natural gas reaches considerably higher temperatures in comparison. Besides, engines nowadays often are equipped with catalytic converters for controlling exhaust emissions. These applications demand gas engine oils of a lower sulphated ash content. The mineral oil based ADDINOL Gas engine oil MG 40-Extra LA possesses distinguished low ash characteristics. Thanks to its high thermal-oxidative stability it ensures a stable lubricating film and a superior ageing stability also at extreme temperatures. It slows oxidation as well as ageing and controls the viscosity increase which is accelerated by oxidation in turn. Lubrication points are reliably provided with oil and the lubricating film is not interrupted. Furthermore, oxidation would encourage the formation of organic acids which can cause considerable damage in the engines as corrosive reaction products – by slowing oxidation, the formation of organic acids is clearly diminished as well. At the same time, the oils prevent the formation of deposits and ensure full functionality of valves, pistons, rings and liners. Thus, ADDINOL Gas engine oil MG 40-Extra LA achieves considerably longer oil drain intervals.
ADDINOL Gas Engine Oil NG 40 is a refinement of our proven and tested ADDINOL Gas engine oil MG 40-Extra LA. Highest thermaloxidative stability for reliable lubrication also at increased temperatures and for all operating conditions, best wear protection and highest engine cleanliness characterise this mineral-oil based high-performance engine oil. ADDINOL Gas Engine Oil NG 40 is preferred for engines of the manufacturers GE Jenbacher, MWM and Caterpillar operated with natural gas in all performance ranges and with cleaned gases at the use of catalytic converters.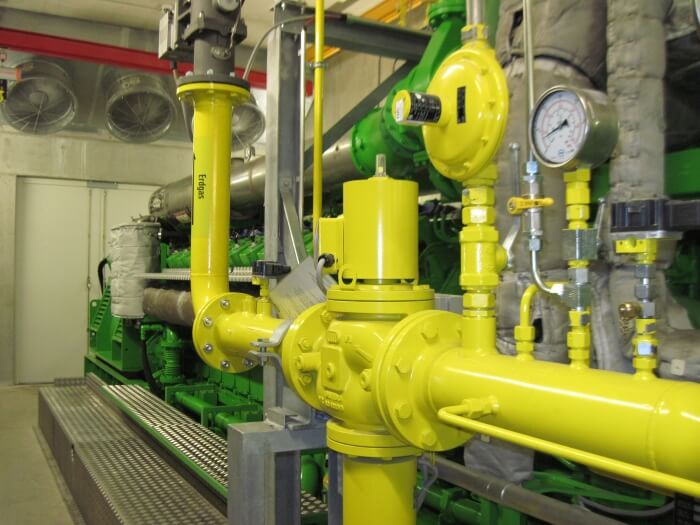 ---
Besides reliable lubrication, heat exchange is decisive for safe operation of a gas engine. Only the use of a high-quality cooler protection agent guarantees the optimum heat exchange.
Read more ...
---
ADDINOL gas engine oils for small cogeneration units
The decentral energy supply of private households by the help of small cogeneration units is gaining more and more importance. The parallel generation of electricity and heat allows the optimum conversion of the energy input (mainly natural gas). These micro CHP* plants reach utilisation degrees of more than 80 %. However, because of the heat- or power-led operation with frequent starts and stops the engines are exposed to extreme conditions. ADDINOL Gas engine oil MG 40 PowerSynth is perfectly suited for compact micro CHP units operated with natural gas. These units achieve optimum performance even at small oil volumes and the maintenance effort is reduced to a minimum.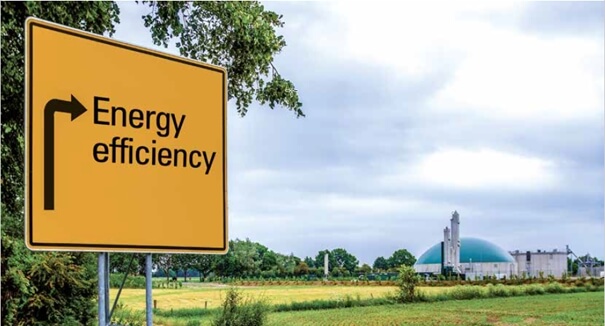 Composition and quality test of gas engine oils
The composition of gas engine oils is a particular challenge. On the one hand, the manufacturers of the units place very complex requirements on the lubricants, on the other hand the applications are manifold and each plant needs to be looked at individually. Research & Development make up a vital part of our core competence. In the development of our gas engine oils we have been co-operating closely with leading OEM for many years. After all, today engine oils are design elements and the safe and stable operation is only possible with the fitting lubricant.
In the first step, the base oil and additive components need to be selected carefully and tested at our laboratory. Before a new gas engine oil is applied in the field tests of the single manufacturers it is subjected to comprehensive analyses at our in-house laboratory. Each manufacturer places individual requirements on the load tests in its units – these differ concerning duration, test criteria and key aspects. The runtime required varies from manufacturer to manufacturer and can amount to up to 16,000 operating hours. Achieving an approval entails a practical test phase in one or two engines. Each field test ends with an appraisal – here the engines are disassembled for checking the single components. Over the time we have acquired many years of field test experience and more than one million analytical values, every year about 80,000 to 100,000 values are added.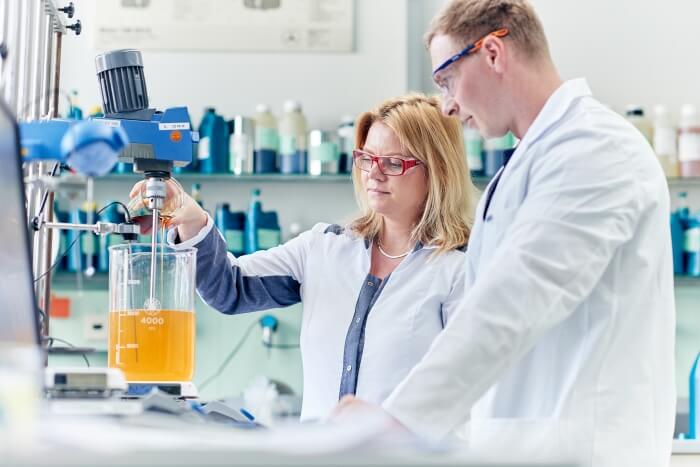 Properties of gas motor oils from ADDINOL
ADDINOL Gas engine oils achieve operating lives which are up to 50 % longer than the operating lives of conventional gas engine oils. Their oil change intervals are determined individually. Operating lives and the condition of the gas engine oil can be described by the help of specific values. However, the exact state of engine cleanliness and possible wear can only be ascertained by an examination with a borescope or by disassembling the engine. Within comprehensive field tests of up to 16,000 operating hours various gas engines have been subjected to an appraisal. The pictures of the components speak for themselves!
The engines operated with ADDINOL Gas engine oils possess a superior cleanliness and show almost no signs of wear! This means they ensure the full performance of the engine components and their long lifetimes. Valve train, piston skirts, bearings and cylinder liners are free of deposits. The engines can unfold their full potential.
Maximum oil use time, tailor-made
The regular checking of the oil level and the execution of oil changes at defined intervals ensure stable operation of the gas engine. With our ADDINOL Analysis Service  the operator gains an overview of the key characteristic values, as well as a recommendation of the optimum oil operation time, tailor-made for the respective system.
Oil change periods for CHP operators
Regular checks of the oil condition and oil changes carried out in defined intervals are the precondition for the stable and lucrative operation of a cogeneration unit. This demand is posed by all gas engine manufacturers and all insurance providers. Therefore, we accompany the use of ADDINOL gas engine oils with our analyses service. An independent laboratory analyses the condition of your oil filling by the help of the following parameters, among others: viscosity and viscosity increase, oxidation, nitration, TBN and TAN. Wear elements and contaminants are determined as well. Apart from the i-pH-value, the relation between TBN and TAN is highly important especially for sewage and landfill gases. These parameters indicate the loading of the oil with corrosive acids.
On the footing of our special matrix, which is based on the limit values defined by the manufacturers as well as on values obtained in field tests and practical applications, we identify the individual oil change interval for your plant, tailored to the respective conditions on the spot and the condition of both oil and engine. However, the oil change interval is no fixed factor. It is influenced by the engine's operating conditions, gas quality, oil volume and oil quality. As the parameters can be subject to variation, the constant monitoring is highly important. The optimum oil change interval is the precondition for an efficient operation and maximum engine lifetimes.
For our service we only require the specifications of your engine. For obtaining the correct results, it is of utmost importance to record all data carefully. With each lab report you receive an overview of your parameters both in table form and in graphs including a trend analysis and information on the oil operating life, i.e. whether the interval can be kept or extended even or possibly should be shortened.
Sven Köhler
Product Manager Gas Engine Oils
Are you interested in our gas engine oils? Find a sales partner near you.