ADDINOL: Automotive lubricants with more than 150 approvals
The automotive range of ADDINOL comprises engine oils, automotive transmission oils and function fluids certified according to the highest internationally-valid specifications. Innovations and the excellent quality of the ADDINOL lubricants are confirmed by more than 150 named approvals from leading OEMs (Original Equipment Manufacturer). These include Mercedes-Benz, Volkswagen Group, BMW, MAN, Porsche, Scania, Volvo, MTU, Ford, PSA, Fiat Group, GM, Renault, as well as Jaguar and Land Rover.
High-performance engine oils from ADDINOL offer reliable wear protection and an excellent start-up and warm-up behaviour due to optimum low temperature properties and a low viscosity character. They provide more than 150 named approvals and also exceed the minimum requirements of national and international car manufacturers.
Read more
Transmission oils from ADDINOL can fulfil even the most extreme requirements. They offer effective protection against wear and even ideal friction behaviour for cold starts. ADDINOL automotive transmission oils are a reliable solution for almost any application.
Read more
Besides our high-quality engine and automotive transmission oils, ADDINOL function fluids can aid the full and flawless operation of your car and round off the high-performance product range for your vehicle.
Read more
Product range and fields of applications of automotive lubricants
We develop powerful engine oils for a variety of applications. The oils are characterized by excellent wear protection and good start and warm-up behavior. ADDINOL not only produces engine oils for cars (for example hybrids), but also for motorcycles, trucks, tractors, rail vehicles, marine and stationary equipment. The engine oils have more than 150 approvals (including well-known manufacturers) and exceed their minimum requirements. With the ADDINOL engine oils your engine is always running at full speed.
The transmission oils from ADDINOL are equally versatile and are designed for cars, trucks, tractors, forestry and construction machinery as well as stationary systems. It does not matter if these are heavily loaded hypoid gears, synchronized and non-synchronized shift & steering gearboxes or transfer cases. For every type of gearbox, you will find the right lubricant at ADDINOL. Wear protection, long service life of the gearbox and optimum viscosity at low and high temperatures are guaranteed.
Our brake fluids are based on glycol ether and contain corrosion inhibitors and antioxidant additives. They are suitable for use in hydraulic brake and clutch systems with drum and / or disc brakes. Benefit from excellent wear protection, high thermal and chemical stability and good compatibility with all brake system materials.
ADDINOL's ethylene glycol-based antifreeze products deliver high performance and are environmentally friendly at the same time. Depending on the mixing ratio, they offer frost protection down to -40 °C. So you are well prepared even for severe winters. The high chemical stability, paired with corrosion protection, are water-miscible. The long life of the concentrate protects your engine reliably all year round.
Our corrosion inhibitors protect the metals used in the motor as well as the solder alloys. Even aluminum surfaces remain intact. They are not only applicable in cars, but also in other vehicles such as ships or in stationary systems. The concentrate must be diluted with water before use. It is miscible with glycol-containing radiator protection.
Windscreen cleaners from ADDINOL can be used year-round with frost protection (down to -60 °C). Depending on the application, the concentrate can of course be diluted and is therefore more productive. The frost protection is adjustable. The windscreen cleaner based on ethanol and ethylene glycol is readily biodegradable. Benefit from its high temperature resistance and the balanced cleaning additive for clean and streak-free panes.
ADDINOL interior engine cleaners were made on mineral oil basis. They are suitable for all petrol and diesel engines with and without turbocharger. Remove residues of used oil from your engine before changing the oil and thus ensure a clean transition. The active rinse removes sludge and solid deposits in the engine block. This also increases the power of your engine after the oil change.
Greases are also used regularly in vehicles. For example, they are needed for the lubrication of wheel bearings. ADDINOL offers a wide range of multipurpose and multi-grade greases that meet these requirements. The greases offer high aging resistance, good water separation and excellent corrosion protection.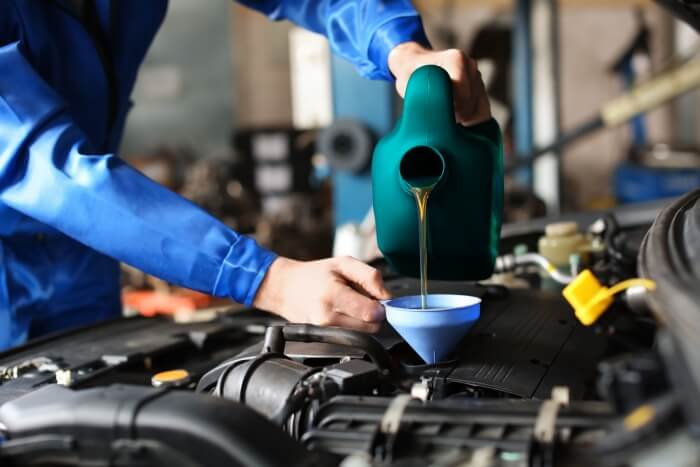 Sven Köhler
Product Manager Gas Engine Oils
Are you interested in our automotive lubricants? Find a sales partner near you.