Multigrade oils are engine oils which can be used in a wide temperature range. The oils are flowable in cold conditions and can lubricate the engine reliably. When heated, the oil does not become too thin and remains resistant to loads. This means that the lubricant film does not break off even at peak temperatures in the engine.
Until the 1960s, cars were still operated with monograde oils that were suitable for either summer or winter use. This meant that seasonal oil changes were also necessary. The multigrade oils can be operated all year round. The multigrade oils can be recognized by the typical SAE classes on the labels such as 5w30. The first number "5w" stands for winter suitability up to a certain temperature and the second number "30" for a specific viscosity at 100 °C.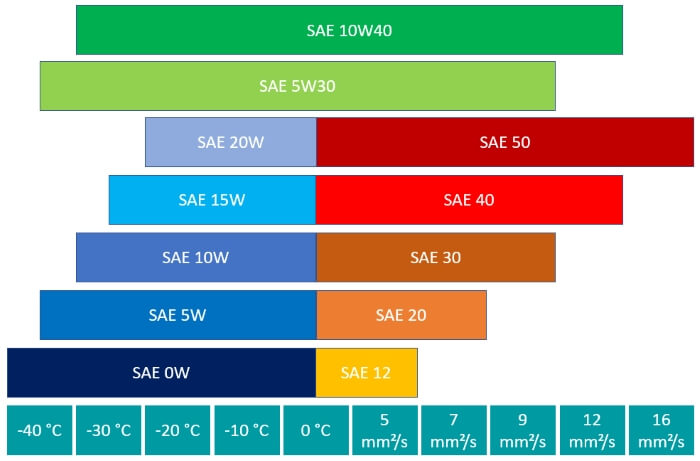 What is the difference between monograde oil and multigrade oil?
We have then listed the most important differences between monograde and multigrade oil for you. In addition, the following table shows typical applications for the two oil types.
Type
Advantage
Disadvantage
Application
Monograde oil

Oil viscosity remains stable for a long time
Slow oil aging

Strong temperature dependence of viscosity
Does not allow good lubrication in a wide temperature range
Good lubricating properties either for cold or for heat

For motor vehicles in areas with constant temperatures all year round (e.g. near the equator)
Seasonal oil for classic cars and racing cars

Multigrade oil

Low temperature dependence of viscosity
Good lubrication in a wide temperature range
Suitable for cold and heat

Faster oil aging
Accelerated loss of the original viscosity

For modern motor vehicles in areas with high temperature fluctuations
By adding additives, modern multigrade oils have a wide operating temperature range in which the viscosity remains stable. In addition, increased oxidation stability guarantees a long service life of the oils. For this reason, multigrade oils are also designed for longer oil change intervals and can be driven up to 60,000 kilometers as longlife oil.
Can monograde oils and multigrade oils be mixed?
Due to the different properties of monograde and multigrade oil, we recommend that you do not mix the oils. Although mixing is possible, it makes no sense, as the oils drastically change their initial properties and viscosity, which can cause problems in the engine or transmission. If the mixed oil no longer lubricates as expected, engine damage may occur.
Multigrade oil by ADDINOL
ADDINOL offers many multigrade oils of different SAE grades in order to supply all common engines on the market with the suitable lubricant. We have put together a small selection for you. An overview of all engine oils can be found here.
Viscosity:
Specifications / Approvals:
ACEA C3
API CF, API SN
MB 229.31, MB 229.51, VW 505 00, VW 505 01, GM Dexos 2, OV0401547-D30, MB 229.52
Viscosity:
Specifications / Approvals:
ACEA A3/B4
API SP, JASO MA-2
VW 501 01, VW 505 00
Viscosity:
Specifications / Approvals:
ACEA A3/B4
API CF, API SM
MB 229.1