All 0W30 engine oils from ADDINOL are composed of high-quality base oils and additives. In modern 0W30 oils synthetic base oils are used because they are thermally more resistant and remain stable longer. They offer optimum wear and corrosion protection and ensure a long service life for your engine. The oils have an excellent cold start behaviour down to -40 °C. Convince yourself of our 0W30 oils. With our Oilfinder you can check which oil your car is compatible with.
Specifications / Approvals:
ACEA C2
meets the requirements:
Ford WSS-M2C950-A, Jaguar Land Rover ST JLR.03.5007
Information about 0W30 engine oil
Engine oils with the designation 0W30 belong to a certain SAE class according to which the oil was specified. The SAE class describes the viscosity of an oil, i.e. its flow properties as a function of the operating temperature. Engine oil with class 0W30 is a multigrade oil. This means that it has good flow properties at both cold and hot operating temperatures. This is necessary in order to optimally lubricate the engine at all necessary points in summer and winter. "0W" stands for flowability at cold temperatures (W=winter). At 0W30 oil the borderline pumping temperature is -40 °C. In this extreme cold, the oil is still liquid enough to disperse in the engine. The second part "30" describes the fluidity of the oil at an operating temperature of 100 °C (operating temperature of most engines). The viscosity of a 0W30 oil at 100 °C is in the range of 9.3 - 12.4 mm²/s. Pay attention to the manufacturer's specifications of your car and only fill 0W30 oil into your car if it has been approved for it.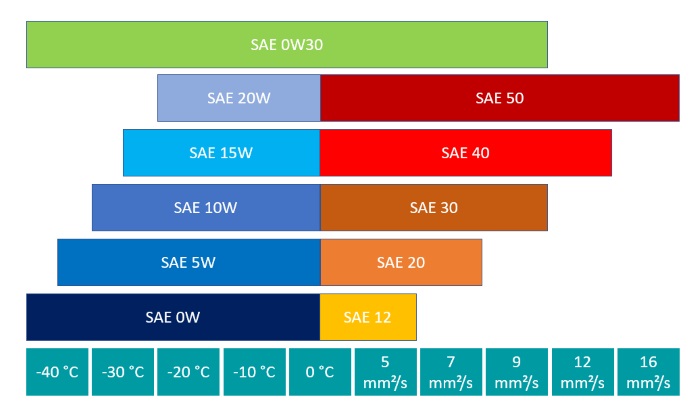 The 0W30 oils fulfil their purpose at outside temperatures of -40 °C to +40 °C. They can withstand extreme heat and cold.
Engine oils with the SAE classes 0W30 and 5W30 differ in their low temperature performance and their borderline pumping temperature. 0W30 can be pumped down to -40 °C, at 5W30 the borderline pumping temperature is -35 °C. This makes 0W30 oil suitable for use in even colder regions. However, the 5W30 is also well prepared for European winters. If your car is approved for both SAE classes, you can also fill oils of both viscosity classes.
Mixing 0W30 und 5W30 engine oils
Engine oils with SAE classes 0W30 and 5W30 can be easily mixed with each other. If your car has been approved by the manufacturer for both SAE classes, you can also drive with a combination of the oils. However, the mixture always takes on the characteristics of the inferior oil. This reduces the resistance to cold temperatures.
If your car only has the approval for one of the SAE classes, then it is better to refrain from mixing. It can happen that your engine is damaged by the altered flow properties of the mixture.