SAE 75W80 gear oil from ADDINOL
Transmission oils of SAE class 75W80 consist of fully synthetic base oils of the highest quality. This gives them an outstanding viscosity-temperature behaviour and they can be used all year round. The oils are suitable for manual transmissions in many passenger car models, especially for service fills. They also reliably lubricate heavy-duty manual transmissions in heavy commercial vehicles. With our Oilfinder you can check if SAE 75W80 oil is suitable for your gearbox.
Our SAE 75W80 transmission oils
Specifications / Approvals:
API GL-4, API GL-4+
meets the requirements:
MB 235.10, Volvo 97308, BMW MTF-LT-2, BMW MTF-LT-3, BMW MTF-LT-4, Fiat 9.55550-MZ1, VW G 009 317, VW G 052 171, VW G 052 512, VW G 052 532, VW G 052 798 A2, VW G 060 726, VW G 070 726, GM 1940182, VW G 052 726, VW G 052 178, Ford WSS-M2C200-D2, GM 1940711, GM 1940764, PSA B71 2330, BMW MTF-LT-1 and others
Specifications / Approvals:
API GL-4
ZF TE-ML 02L, MAN 341 E3, ZF TE-ML 01L, MAN 341 Z4, ZF TE-ML 16K
meets the requirements:
ZF TE-ML 08, DAF, Iveco, EATON Europe, Volvo 97305, Renault, Iveco 18-1807 Class MGS1, Iveco 18-1807 Class MGS2
Transmission oils of SAE class 75W80 are characterized by high thermal and oxidative stability. They ensure a long gearbox service life with smooth shifting operations.
75W80 stands for the SAE class, for which transmission oil must have characteristic properties. This classification is made by the Society of Automotive Engineers. In the case of multigrade oil, the flow properties of the oil at certain temperatures are particularly important in this context. The value before the "W" (W=winter suitability) indicates the flowability of the oil at cold temperatures. Transmission oils with 75W remain flowable up to -40°C. The figure "80" refers to the kinematic viscosity of the gear oil at 100 °C. The viscosity of the gear oil is determined by the number "80". This is within a range of 8.5 - 10.9 mm²/s.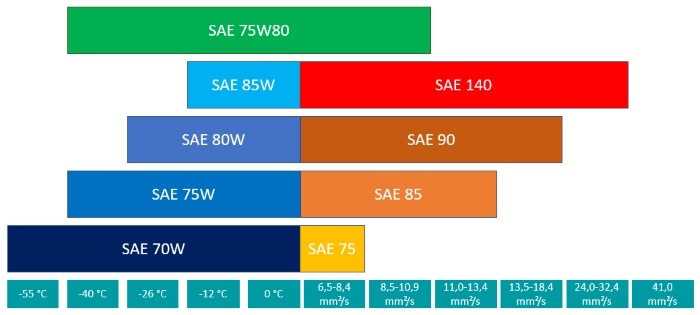 Transmission oil 75W80 or 75W90?
When refilling or changing the transmission oil, always observe the vehicle manufacturer's instructions and follow their instructions. If a 75W80 oil is recommended, it should also be used. If both 75W80 and 75W90 are approved for your car, you have the choice.
Basically, the gear oils do not differ much from each other. 75W90 has a higher kinematic viscosity than 75W80. At 75W90 the kinematic viscosity is 13.5 to 18.4 mm²/s. 75W90 offers better shear stability than 75W80 and can generally withstand higher loads in the transmission.
Oils of different SAE classes can be mixed with each other. You should only know that the oil then rather assumes the slightly worse shear stability of the 75W80 oil. The mixture therefore offers no advantages whatsoever and should only be used in an emergency when no other oil is available.