5W50 engine oil from ADDINOL
Our engine oils with SAE classification 5W50 are fuel-saving low-viscosity oils. They were developed for maximum engine performance. The combination of high-quality oils based on state-of-the-art synthesis technology with specially optimized additives ensures engine cleanliness, corrosion and wear protection. Just try out our 5W50 oils and see for yourself. With our Oilfinder you can check which 5W50 oil is suitable for your car.
The designation "5W50" refers to the SAE class according to which the oil was classified. As a multigrade oil, the 5W50 meets its requirements in both the high and low temperature ranges. The viscosity of the engine oil remains stable over a wide temperature range. The oils can therefore be used all year round. 5W means that the oil is suitable for winter temperatures down to -35 °C. The second part of the SAE class refers to the kinematic viscosity at 100 °C. 5W50 has a flowability of 16.3 to 21.8 mm²/s at 100 °C (operating temperature in the engine) and can therefore withstand the highest loads.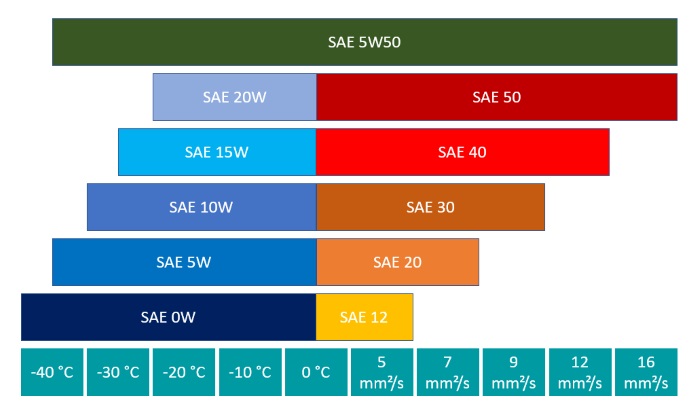 The ADDINOL 5W50 engine oils are excellently suitable for petrol and diesel engines in passenger cars. They support modern injection and turbo engines. They can also be filled into motorcycles with air-cooled and water-cooled four-stroke gasoline engines in road and off-road operation. Due to the good flowability of the 5W50 oil at 100 °C, they reliably lubricate all important lubrication points in the engine. Thanks to good shear stability, the lubricating film does not break off even under the highest loads. That's why 5W50 oils are used, for example, in car racing. Even at cold temperatures down to -35 °C, the oils remain liquid enough to disperse in the engine. The cold start behaviour is excellent. Polymers are added to the oil to cover the various viscosity ranges. As low-friction oils, they reduce friction in the engine compartment, thus saving fuel and reducing CO2 emissions. Check the manufacturer's instructions if your car has been approved for 5W50 oils.