2-stroke oils for two-stroke engines - Which oil is the right one?
Due to their lightweight construction, 2-stroke engines are used in motorcycles, mopeds, lawnmowers, boats, chainsaws, hedge trimmers and other light appliances/vehicles. The two-stroke engine is a reciprocating piston engine which functions like a gasoline engine. The two-stroke oil is added to the fuel in a ratio of usually 1:50 or 1:100. This is also known as mixed lubrication. Due to this special feature, only specially adapted 2-stroke oils may be used in two-stroke engines. The oil must mix well with the petrol and burn as residue-free as possible. Normal engine oil would settle on the ground in the two-stroke engine and cause the engine to run dry because no more fuel can be drawn in.
There are also two-stroke engines that operate with separate lubrication. The oil is not added directly to the fuel, but filled in separately. Either an automatic system regulates the injection of the oil into the engine compartment after load or there is a strict separation of fuel and oil. In this case, the oil is only directed to the necessary lubrication points such as bearings and cylinder walls.
The two-stroke oils from ADDINOL can be used in many different ways and meet or exceed numerous specifications, regardless of whether mixed or separate lubrication is used. When purchasing, make sure that the OEM releases are complied with and, if in doubt, check the choice of oil with our oilfinder. This works for motorcycles, scooters, mopeds and quads and provides you with the right oil for your 2-stroke engine.
Specifications / Approvals:
API TC, API TC+
ISO L-EGD, JASO FD
meets the requirements:
CEC L-33-T-82
2-stroke oils fully synthetic, semi-synthetic or mineral?
Whether your motorcycle or moped requires fully synthetic, semi-synthetic or mineral engine oil depends entirely on your model and the requirements the oil must meet. The following overview shall serve for the classification of the different 2-stroke oils.
2-stroke oil
Composition
Features & Benefits
Application purpose
Fully synthetic

Artificially produced long chain hydrocarbons with a small amount of mineral oils
Strong additives

Resistance to load peaks
Speed and heat resistant
Low soot development
High acquisition costs

Heavy-duty engines with high power output
E.g. racing motorcycles, motocross

Semi-synthetic

Combination of mineral and synthetic oils
Lower additive content

Optimized for medium loads
Suitable for normal road traffic
Good heat and speed resistance due to synthetic oil content
Cheaper than pure synthetic oil

Low to medium loads in engines
E.g. scooters and road motorcycles

Mineral

Consist of purified crude oil
Natural product
Very low at additives or no additives included

Less robustness to load peaks
Lower temperature resistance
Strong soot development
Low acquisition costs due to less complicated manufacturing process

Older engines with incompatibility to additives
E.g. classic cars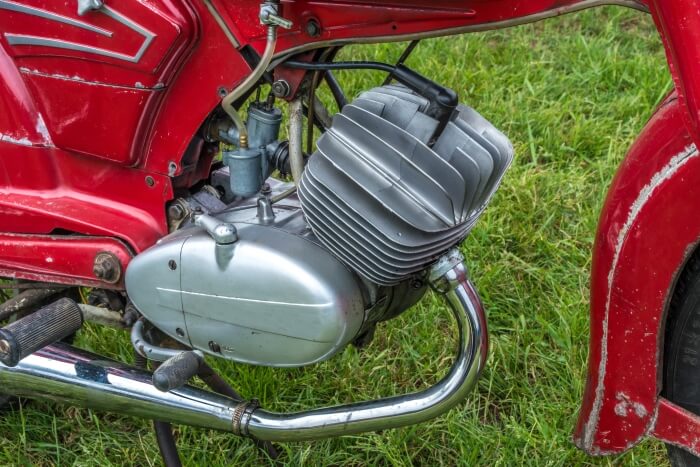 2-stroke oil classifications
Since two-stroke oils can be used in many different ways, it is important to classify the oils required according to their performance. Various standards of central institutions make it easier to keep track. This means that engine oils remain internationally comparable. Always check the manufacturer's instructions before buying a 2-stroke oil to fill the optimal product. For all norms and classes, the rule of thumb is that the later letter in the alphabet or the higher number stands for higher performance.
The JASO (Japanese Automotive Standards Organization) defines standards for engine oils of two-stroke engines as well as Otto four-stroke and motorcycle engines. The two-stroke engines are divided into JASO FA, FB, FC and FD.
| | |
| --- | --- |
| Class | Operating conditions |
| JASO FA | Light load |
| JASO FB | Medium load |
| JASO FC | Medium pollution and low smoke |
| JASO FD | High pollution and low smoke |
The ISO (International Organization for Standardization) also publishes classifications for engine oils of 2-stroke engines. The classification is similar to the JASO classes.
| | |
| --- | --- |
| Class | Operating conditions |
| ISO-L-EGB (Global GB) | Medium load |
| ISO-L-EGC (Global GC) | Medium pollution and low smoke |
| ISO-L-EGD (Global GD) | High pollution and low smoke |
The API (American Petroleum Institute) also defines minimum requirements for engine oils. In this respect, standards have been set for 2-stroke engines.
| | |
| --- | --- |
| Class | Operating conditions |
| API-TA (TSC-1) | Light load (mopeds) |
| API-TB (TSC-2) | Medium to high load (scooters and motorcycles) |
| API-TC (TSC-3) | Highest loads (racing bikes) |
| API-TD (TSC-4) | Outboard engines according to NMMA TC-WII (Marine) |
Properties of 2-stroke oils
Regardless of which machine the 2-stroke oils are used in, they must meet the following requirements in order to protect the engine and still achieve optimum performance:
Maintenance of a constant lubricating film even at high speeds and temperatures (wear protection)
Combustion as residue-free as possible (low smoke properties)
Good miscibility with the fuel
Good corrosion protection properties
Good ignition behaviour during cold and warm starts
The 2-stroke oils from ADDINOL fully meet these requirements.