SAE 75W140 transmission oil from ADDINOL
Transmission oils of SAE class 75W140 consist of fully synthetic base oils and selected additives. This gives them an outstanding viscosity-temperature behaviour and they can be used all year round. The transmission oil 75W140 is characterized by an excellent cold start behaviour. The oils are suitable for highly loaded hypoid axle drives. With our Oilfinder you can check if SAE 75W140 oil is suitable for your transmission.
Our SAE 75W140 transmission oils
Specifications / Approvals:
API GL-5
MIL -L-2105E, SAE J 2360
meets the requirements:
ZF TE-ML 05A, ZF TE-ML 07A, ZF TE-ML 16F, ZF TE-ML 21A, Scania STO 1:0, Mack GO-J, Scania STO 2:0 - A, Arvin Meritor 0-76-M, ZF TE-ML 12N, Bosch TE-ML 08
The transmission oils of the SAE class 75W140 have a high scuffing load capacity, with best wear protection and a high shear stability. They thus ensure a long transmission service life and reliable lubrication of the transmission under heavy loads. They meet and exceed the international API GL-5 specification.
75W140 stands for the SAE class for which the transmission oil must have characteristic properties. This classification is made by the Society of Automotive Engineers. In the case of multigrade oil, the flow properties of the oil at certain temperatures are important. The value before the "W" (W=winter suitability) indicates the flowability of the oil at cold temperatures. Transmission oils with 75W remain flowable up to -40°C. The number "140" refers to the kinematic viscosity of the transmission oil at 100 °C. This has a range of 24.0 and 32.4 mm²/s.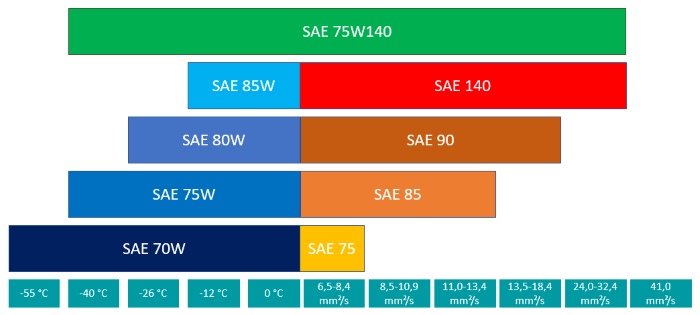 What is the difference between 75W90 and 75W140 gear oil?
The transmission oils have first of all the same cold resistance and are still flowable due to the marking 75W to -40 °C. The big difference between the oils is the kinematic viscosity. While 75W90 has a kinematic viscosity of 13.5 - 18.4 mm²/s, 75W140 has a kinematic viscosity of 24.0 - 32.4 mm²/s. Thus 75W140 has a better viscosity-temperature behaviour. The transmission oil can withstand higher loads.
Just because 75W140 is at first sight the more powerful oil, you can't always prefer 75W90. Always refer to the OEM instructions for your vehicle to determine which oil can be used. If the filled transmission oil does not comply with the manufacturer's instructions, the transmission may be damaged.