0W16 engine oil from ADDINOL
The engine oils of SAE class 0W16 are ultra-modern fuel-efficient oils with reduced HTHS viscosity. They guarantee measurable fuel savings with low CO2 emissions. The 0W16 oils impress with excellent low-temperature behaviour and best lubricity at all operating temperatures. Convince yourself of our products. With our Oilfinder you can check which 0W16 oil is suitable for your car.
The engine oils of SAE class 0W16 are subject to a comparatively new classification for modern gasoline engines. They are multigrade oils with very good flow properties at low temperatures. 0W means that the oil remains flowable down to -40 °C. Up to these low temperatures a good cold start behaviour is given. Wear in the engine is minimized. The second part of the SAE class description, the number "16", indicates the kinematic viscosity at 100 °C. The viscosity of all 0W16 oils is in the range 6.1 - 8.2 mm²/s. At the same time the minimum HTHS viscosity is 2.3 mm²/s.
Before the introduction of 0W16 engine oils, all SAE classes were distinguishable from each other by fixed intervals of their permissible kinematic viscosity. The 0W16 class overlaps for the first time with the 0W20 class (kinematic viscosity of 6.9 - 9.3 mm²/s). Differentiation between the two classes is only possible via the HTHS viscosity. In comparison, engine oil of class 0W16 has even better values in terms of fuel savings, CO2 reduction and wear protection than 0W20 due to its lower viscosity.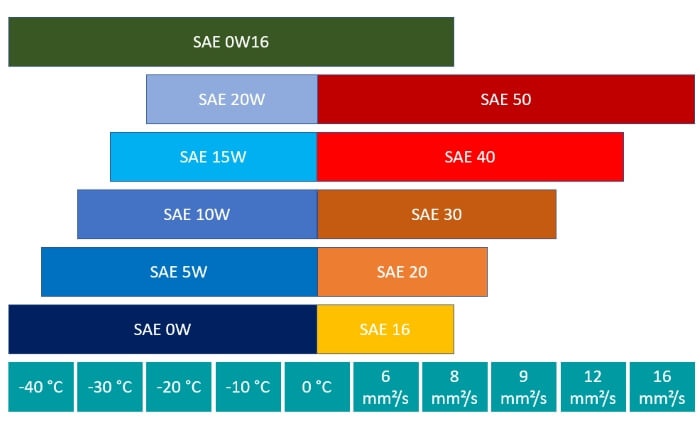 For which models can 0W16 engine oil be used?
The new SAE class was developed to promote environmentally friendly vehicles. The low pollutant emissions with lower fuel consumption are particularly kind to polluted cities. This is why SAE 0W16 class engine oil is mandatory for modern engines from many Asian (Japanese) manufacturers. The oil is also recommended for some hybrid models.
The following manufacturers have already developed engines which require 0W16 oil:
Toyota
Lexus
Honda
Nissan
Mitsubishi
Subaru
Suzuki