What is the definition of LSPI?
The abbreviation LSPI stands for "Low Speed Pre Ignition". LSPI describes a combustion problem in downsized petrol engines with direct injection in which fuel ignites unintentionally before the ignition point. This results in an explosion including a pressure wave in the combustion chamber, which counteracts the piston movement. The engine can be irreparably damaged in a second.
Pre-ignition only occurs at low speeds or revolutions per minute. The engine must also be under high load. The problem is therefore favoured by an under-revving driving style. Starting on a hill can also lead to LSPI. When the engine is cold, the risk of LSPI increases further, because the fuel droplets evaporate incompletely. There is potentially more inflammable matter for a large explosion.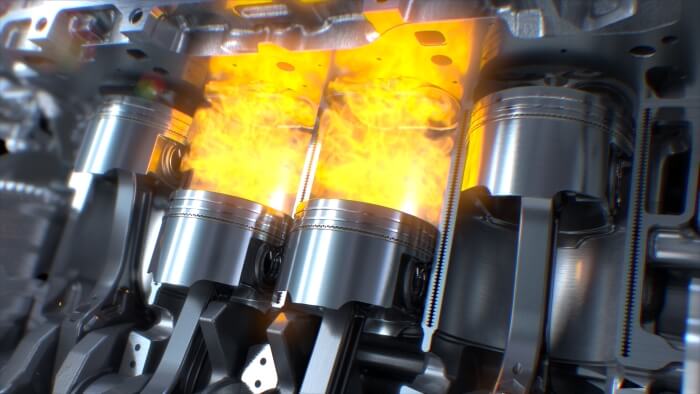 What engine damage occurs due to LSPI?
The powerful explosion caused by LSPI releases large forces. It is therefore possible that some parts of the engine are literally shredded. Ring lands of pistons can be torn or even piston crowns split. Connecting rods bend and bearing shells are destroyed. In some cases, the engine can no longer be repaired.
However, this super-detonation does not have to occur immediately. LSPI usually makes itself felt in the form of smaller explosions that cause the engine to run rough. Smaller damages are, for example, a broken cylinder head gasket, worn piston rings or a defective connecting rod bearing shell.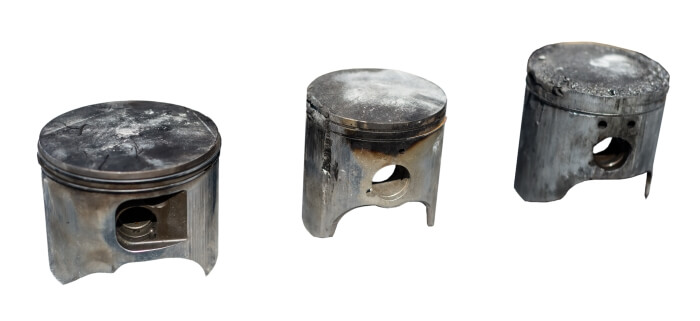 Which engines are affected by LSPI?
LSPI occurs in downsized petrol engines with direct injection. The engines are subject to strict emission specifications and are nevertheless supposed to deliver high performance. There is a high load in a very small space. This inevitably leads to undesirable design flaws. Typical designations for these engines are TSI, TFSI, EcoBoost or TCE.
What are the causes of LSPI?
Due to direct injection, the fuel has only a short time to evaporate and can enter the combustion chamber in droplet form. This increases the risk of explosion.
The turbochargers generate great pressure and suck in oil. Flammable oil carbon forms in the intake and combustion chamber.
Downsized engines produce faster and hotter combustion in the engine, fuelling the blaze.
The engines require low-viscosity oils, that enter the combustion chamber more easily and form a highly explosive mixture together with the fuel.
How can you prevent LSPI?
If possible, do not drive your car at low rpm, especially when cold.
Use the right oil for your vehicle. To prevent LSPI, new specifications have been created, so that the engine oil not contribute additionally to pre-ignition.
If possible, change the oil annually, even if you only drive shorter distances.
Which oil helps against LSPI?
We have compiled a list of ADDINOL oils for you, that reduce the dangers of LSPI and are suitable for direct injection petrol engines. Typical engine oils designed to prevent LSPI have the specifications Dexos1 Gen2, API SN Plus, API SP or ILSAC GF-6. These engine oils contain other cleaning additives with a low calcium content. Calcium increases LSPI frequency and blast pressure wave. Calcium produces ash during combustion, which can act as a fire accelerant.
Viscosity:
SAE 0W-16
Specifications / Approvals:
API SP with Resource Conserving
ILSAC GF-6
Viscosity:
SAE 0W-20
Specifications / Approvals:
API SP with Resource Conserving
ILSAC GF-6
Fulfils the requirement acc. to:
Chrysler MS-6395, Ford WSS-M2C925-A, Ford WSS-M2C-930-A, Ford WSS-M2C-945A, GM 6094 M
Viscosity:
SAE 5W-20
Specifications / Approvals:
API SP with Resource Conserving
ILSAC GF-6
Fulfils the requirement acc. to:
Chrysler MS-6395, Ford WSS-M2C925-A, Ford WSS-M2C-930-A, Ford WSS-M2C-945A, GM 6094 M
Viscosity:
SAE 5W-30
Specifications / Approvals:
ACEA C3
API SP
BMW Longlife-04, MB 229.31, MB 229.51, Porsche C30, VW 504 00, VW 507 00
Fulfils the requirement acc. to:
Opel OV0401547-D30, Opel OV0401547-G30, MB 229.52
Viscosity:
SAE 5W-30
Specifications / Approvals:
API SP with Resource Conserving
GM DEXOS 1 Gen 2, Opel OV0401547-G30, ILSAC GF-6A
Fulfils the requirement acc. to:
Chrysler MS-6395, Ford M2C946-A, GM 6094 M