Firearms of all kinds need regular care to function in the best possible way and remain operational for a long time. The removal of powder residues after use or the proper preservation of the weapon during storage are only two examples that gun owners must take into account. With the weapon oil of ADDINOL you lubricate, preserve, clean and care for your gun in an optimum way. The fulfilment of NATO and Bundeswehr requirements are proof of the functionality of the oil. The weapon oil can be used for hunting, sports or military purposes.
Alternatively, the weapon oil is suitable as a high-quality, universally applicable maintenance and lubricating oil with excellent corrosion protection properties, very good wear protection, good penetration capacity and cleaning behaviour for use in the household.
Specifications / Approvals:
German Armed Forces TL 9150-0078, BW Code: OY 1045, NATO code S-761
meets the requirements of:
NATO code S-758, MIL-L-63460
The weapon oil of ADDINOL is available in different container sizes. Weapon oil is available in a spray can of 150ml and as 1l canister for the private user. Bulk buyers can also purchase the weapon oil in a 20l canister or a drum.
Information about weapon oil
Weapon oils are mainly used for the care and maintenance of all types of firearms. The oils must lubricate the moving parts of the weapon and thus protect them from wear. This requires a low viscosity with suitable creep ability. In addition, metallic components must be protected against corrosion. The weapon oil also requires a cleaning character, which enables it to remove combustion residues from the bullets. The oils must remain temperature stable and must not thicken or resinify during use. Compatibility with other weapon components or coating materials made of wood, plastic or paint is also required.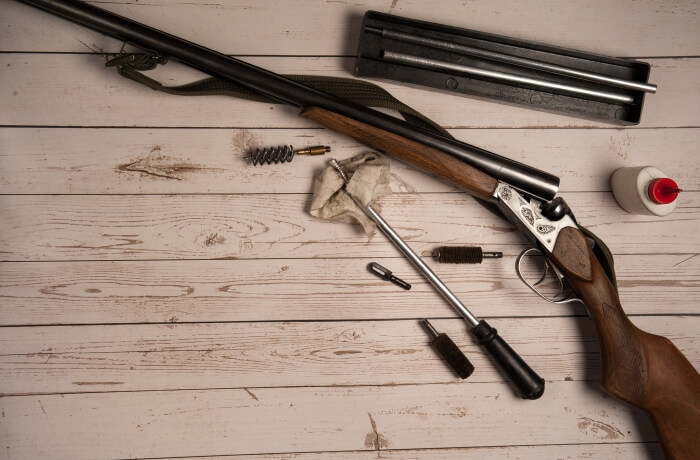 The weapon oil of ADDINOL fully meets the requirements and has the following properties:
Wide operating temperature range from -54 °C to 150 °C
Very good corrosion protection properties
Excellent wear protection
Very good miscibility with mineral oils and the most common solvents
Free from solvents
Odourless
The weapon oil of ADDINOL is a preservative and cleaning fluid based on synthetic hydrocarbons and carboxylic acid esters. Special additives are added to improve corrosion and wear protection. Thus, the gun oil keeps pistols and rifles clean for a long time and protects against rust and decay.
The weapon oil of ADDINOL has a low viscosity which is between ISO VG grade 15 and 22. The kinematic viscosity of the gun oil is 17.6 mm²/s at 40 °C. This makes the oil relatively thin and gives it good creeping properties. The weapon oil spreads well on and in the gun during use, protects surfaces and removes impurities.