Move heavy loads safely thanks to ADDINOL hydraulic oil HVLP 46
The safe movement of heaviest cargo on all terrains was one of the aims in the development of the novel NBR-crawlers. Thanks to the self-propelled crawlers some installations can do without the use of cranes even. The Swiss NBR Offshore Logistics only makes use of components provided by well-known manufacturers including high-performance lubricants supplied by ADDINOL.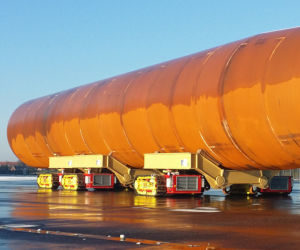 NBR-crawlers are a modular system of crawler units which are put together depending on the requirements posed by the respective transport job. With the single units being connected, the crawlers can be controlled as a whole. Main applications are the offshore sector and surfaces of minor load capacity. When using modified chains and particle filters, also indoor applications are possible. The ground-breaking Heavy Lift Transport System has been developed under the direction of manager and head of development Nikolaus Berzen Ratzel. Today, there is a whole line-up of NBR-crawler types available covered by patents.
Going ahead on any terrain
Thanks to their construction, cargo can be positioned at the centre of the special platform and hydraulic cylinder. If required, NBR-crawlers can be placed directly under the component. The calotte on the hydraulic cylinder makes the transport of any construction possible. Depending on demand and application there are various lift-heights (400–800 mm) and track widths available.
The vehicle's climbing ability achieves up to 44 % and 24° respectively! Thanks to their special construction, the crawlers can move freely and level out uneven underground. Since load is applied as distribution rather than wheel load, they can be used on undergrounds which only have been compacted before. Moreover, crawlers are equipped with an automatic levelling unit ensuring that the cargo is being balanced all the time.
Flexible and highly powerful when combined
NBR-crawlers can be disassembled into their single units to be transported in containers. For assembly on the spot and disassembly after successful operation only forklifts or a small mobile crane are required. Each crawler is equipped with an own power pack and can move self-sufficiently. Depending on type, crawlers reach a speed of up to 0.56 km/h under full load.
As a group, the crawlers achieve extraordinary performance. At the moment, up to 20 units can be connected via cable connection in order to manage loads of about 12,500 t; they are being controlled flexibly and monitored by data lines. However, NBR Offshore Logistics is already working at combining 40 crawlers in order to provide a total loading capacity of 20,000 t!
Selected components and high-performance lubricants of ADDINOL
Particular attention has been paid to reliability and worldwide availability of spare parts when the power packs were developed. ADDINOL high-performance lubricants are being used as first fill and service products. Head of development Nikolaus Berzen Ratzel particularly appreciates superior operating lives typical of the quality products made in Leuna. Many lubricants make extended service intervals possible increasing flexibility where the crawlers are being used. Besides, the vehicles are in use under very different climatic conditions. ADDINOL high-performance lubricants are not only available all over the world but at the same time ensure maximum reliability even under most extreme operating conditions.
Each NBR-crawler is equipped with a hydraulic drive and a PPU (PowerPackUnit). Here, 6- and 8-cylinder engines of MTU and Mercedes-Benz with a power between 240 and 450 kW have been chosen. The engine's reliable lubrication is ensured by ADDINOL's fuel-efficient engine oil Extra Truck MD 1049 LE. It meets strict requirements of Euro VI commercial vehicles and reduces both fuel and engine oil consumption. Even at low outdoor temperatures the engines achieve best cold-start and warming-up performance and display highest ageing and shearing stability even under difficult operating conditions.
Hydraulic units ensure the reliable levelling of the whole unit and therefore are exposed to particularly high loads. This application calls for the powerful ADDINOL hydraulic fluid HVLP 46. Based on its superior viscosity-temperature behaviour it achieves highest performance both at low temperatures and temperature peaks, the hydraulic system reacts quickly and reliably and reaches increased hydraulic power under full load.